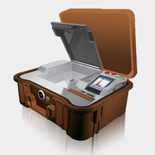 Portable-1 XRF Spectrometer
Model: Pocket III XRF
Application: ALL
Brochure: PDF
Phone: 617.202.4765
Introduction
The Portable I XRF comes in three various Models. The Portable I can be calibrated to work for various applications. Mineral Exploration and Surveying, Alloy Analysis, Precious Metals Analysis, ROHS/WEEE Analysis. For further information, please view our brochure or request a quote.
Technical Specifications
Measurable Elements: From Sulfur to Uranium (76 Element Total)
Precision: 0.05% - .1% Deviation
Weight: 1.35Kg
Tube Voltage: 5 - 50KV
Test Time: 30 Seconds
Ambient Humidity: <71%
Ambient Temperature: -20°C - +50°C
Power Input: 110V AC or 220V AC
What do you get?
Portable I Energy Dispersive X-ray Fluorescent Spectrometer
Necessary Wiring
PDA w/ GPS -

FREE

Silver, Copper and RoHS Standard Samples
Proprietary Software -

FREE

1 Year Limited Warranty