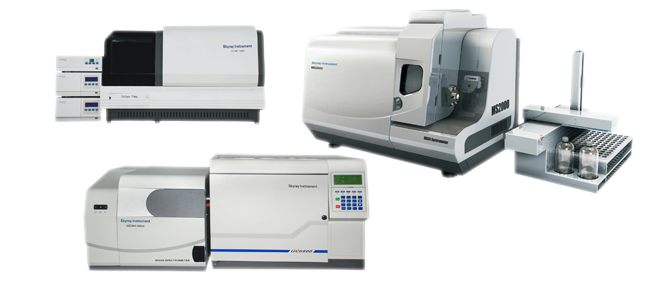 Mass Spectrometer Catagories
Skyray's Inductively Coupled Plasma Mass Spectrometry (ICP-MS) features microscale(10-6), trace and ultratrace element analysis techniques. Most elements in the periodic table of elements can be tested. Main features include: low detection limit, wide trends linearity range, minimal interference, high accuracy and fast analyzing speed.

LC-MS 1000 Liquid Chromatograph – Mass Spectrometer is one of the best tools to find and determine these trace organic chemicals LC-MS1000 system is equipped with a LC310 high-pressure pump, a constant temperature chamber, an autosampler, a UV detector and an MS detector. The MS detector is equipped with an ESI ionizer or an APCI ionzier (optional). Users can switch from one detector to another easily or use UV detector and MS simultaneously (with proper split method).

Skyray's new generation Gas Chromatograph – Mass Spectrometer (GC-MS) system offers high performance, high reliability, and low cost for wide variety of applications. Holding multiple patents, Skyray manufactures GC-MS 6800 with Electronic pressure/flow control system, EI filaments and Agilient vacuum system. GC-MS 6800 is a powerful instrument equipped with State of the art ChemAnalyst software and widely applied in industrial inspection, food safety and environmental protection industries.